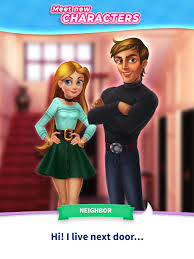 Word Mansion is an exciting word game with a lot of adventures. It is a unique game which is based in a story and combines the challenge of word puzzles with the creativity of home decoration and renovation.
Anna is the main character of this game and you will play with her in the mansion that her uncle inherited her. Be with her as she explores new things in the mansion, she meets new people and builds a new life. Word Hike is a similar and fun game to play as a substitute of Word Mansion. If you like to play a different kind of puzzle you might want to check it out here.
This will be the house of her dreams. You will help her in the many challenges she has. You will help her solve the puzzles while creating the home of her dreams.
Word Mansion is a new type of word game because it has intriguing characters and stories. You will get to know their stories and get lost in the narrative. You will show off your skills solving the challenging puzzles.
You have the chance to use your creativity to renovate and decorate the house. You have also the replying alternatives and you can control where this adventure leads you. Word Mansion is a fun game where you entertain yourself and at the same time you train your brain by solving challenging puzzles. It is time to play and explore the mansion with Anna!